Books for a great read
Missing Something
Missing something — Hope for consumers in a warm, crowded world
Every hour of every day 8,000 more human beings join the global community. As our numbers and standard of living rise we squeeze ever more resources from nature. Never before has one species been so successful and so effective in changing the world.
Rather than celebrate, so often we are made to feel guilty. We are told that we stand on the environmental cliff about to fall onto the rocks of global warming, pollution and starvation.
Then the counter message is no, of course we can cope, because with our skills and ingenuity coupled to the ever-powerful engine of commerce all will be well, better even.
Who should we believe? Should we be worried or is it okay to carry on doing our thing?
This book is a view of our vexation and love affair with the environment from the disparate trenches of academia, business and a long practical experience of the environment.
It is a light and sometimes amusing journey through the complexities of a world shaped by a voracious, resource hungry species. It will help you think and join the dots.
Best of all it gives you a ray of hope.
Order your copy from Createspace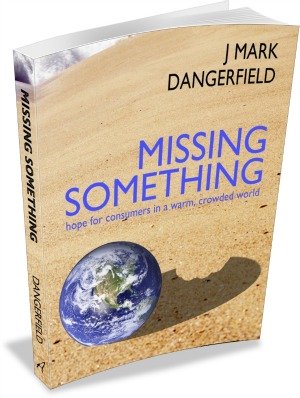 ---
Environmental issues for real
Environmental Issues for Real by Dr J. Mark Dangerfield takes a fresh look at some of the obvious, and some of the not so obvious, challenges for a growing human populations living as we do in a finite world.
Only this time it's not about the impending disasters or the guilt or the blame. This time, it's 10 brief essays that are about the bigger picture. In less than an hour you could glimpse something different, a view that we can only see when we take a fresh look.
Read something different about how we might look at our world.
Download your ebook copy of Environmental Issues for Real at Smashwords for just $0.99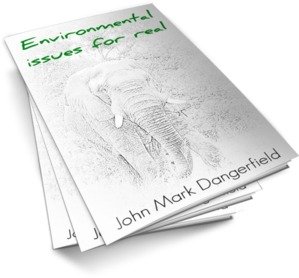 ---
Stories for a change
Stories for a change by Dr J. Mark Dangerfield come from the real world, they tell us about where we are and where we are going, and what it is like to be looking at nature with clouded eyes.
Ten unusual short stories explain where we are in a world we have changed. Compelling tales about the environment that will provoke, sooth and inspire.
It would be great if every undergraduate read them on their mobile device of choice.
Download your ebook copy of Stories for a change at Smashwords for just $2.99
---
Awkward news for greenies
Awkward news for greenies by Dr j Mark Dangerfield and Ashley Bland is a different book.
It could have been a catalogue of environmental disaster, pain and impending doom, or another green rant.
It isn't. It tackles the issue of an environment destined to support a growing human population that treads on it with ever-larger boots.
Order your hardcopy Awkward news for greenies from Amazon
.
---